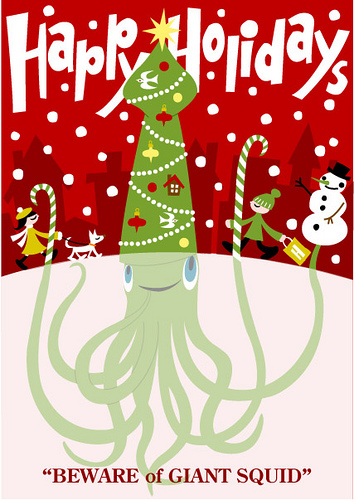 And a Merry Squidmas to all!!!
So, I know it's cutting it a little close, but if you're one of those last minute shoppers at a loss for what to get the men in your life or your friends, Part 2 of the Ho-Ho-Holiday Gift Guide is here to help you out! If you haven't done any shopping yet, you might want to check out Part 1 too, for tips on what to get the ladies you love and pets. After all, there's still time for expedited shipping!
So, because work has been a whirlwind for me this past week, I haven't had time to think about much else or pay attention to what's gone on in the world since Thanksgiving. As a result, I was at a real loss for what to write about this week, other than "Hehe, sorry guys, I've been really busy, no post this week" with a video of that surprised kitty attached.
Luckily for you, I put my thinking cap on and realized that, hey, it's December! And it being December means that it's finally appropriate to start talking/thinking/stressing/getting excited about Christmas (not that this hasn't been happening since the week before Halloween in the real world). So, because I absolutely love to give gifts, I thought, what could be better for some December posts than a couple installments of a gift guide to kick off your holiday shopping?