So, because work has been a whirlwind for me this past week, I haven't had time to think about much else or pay attention to what's gone on in the world since Thanksgiving. As a result, I was at a real loss for what to write about this week, other than "Hehe, sorry guys, I've been really busy, no post this week" with a video of that surprised kitty attached.
Luckily for you, I put my thinking cap on and realized that, hey, it's December! And it being December means that it's finally appropriate to start talking/thinking/stressing/getting excited about Christmas (not that this hasn't been happening since the week before Halloween in the real world). So, because I absolutely love to give gifts, I thought, what could be better for some December posts than a couple installments of a gift guide to kick off your holiday shopping?
Now, just a word of warning – I am all about giving people unique gifts that they might not have even known they wanted. I think it's fun to come up with something that wasn't on their list that you think they would love. So some of these gift ideas might be a little unorthodox, and not your typical, get-your-dad-a-tie type ideas. Another warning, I might unavoidably be suggesting ideas based on the personalities of those near-and-dear to me, so if you're really reading for gift ideas, be creative and keep your giftee's personal tastes in mind.
Without further ado…
Your Ho-Ho-Holiday Gift Guide – For Ladies (& Pets)
Your Mom – Have you seen that commercial for those new Rubbermaid Easy Find containers? You know, the one where the woman opens her cupboard and all of her tupperware spills out in an avalanche of plastic? Well, I don't know about you, but my mom's tupperware cupboard is EXACTLY like that… there are a million different containers, none of which you can find a lid for, and they're all haphazardly balanced on top of one another like a plastic Leaning Tower of Pisa. So what could be a better present than being your mom's own personal Christmas elf and replacing all of her old lidless containers with a set from Rubbermaid with Easy Find lids. They come in several different styles of containers, including Produce Savers, Lock-Its and Premier, and prices range from $2 for a single piece to $50 for a set, at a variety of retailers.
Your Sister – Your sister probably listens to way hipper music than you do, or at least the radio, so she's likely not only heard of, but idolizes, the pop sensation that is Lady Gaga. This platinum-coiffed, always made-up dynamo proves that some pop stars really do have talent these days – and that a little over-the-top stage presence doesn't hurt to score a hit single, either. Show sis you're in the know with this newly released set, The Fame Monster – Gaga's original chart-topping album, The Fame, with an additional eight monsterific tracks. Or at least burn her a copy of the leak you illegally downloaded the week before it came out, for her stocking. $13.99 at Amazon, or free, if you go the leaked route.
Your Girlfriend – I have yet to meet a woman that does not like Bliss. Even the most anti-girly girl always finds something to like in these luxury spa products – and if you're not a believer yet, once you smear some of their stuff on your skin, you'll see why. If it didn't work, you wouldn't be dropping over $10/ounce on it, trust me. With a Bliss-certificate, your best gal pal or special lady can nab any primping products she fancies. Pair it with a 12 Months of Bliss calendar* packed with special monthly coupons and offers, and she'll get even more bang for your buck. Bliss-certificates can be purchased in denominations from $25 to $1,000.
*Oops, which they appear to not be making for 2010. Sorry!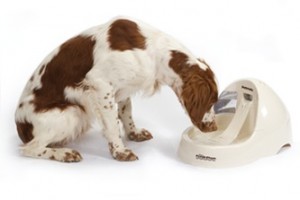 Your Pet – Don't forget kitty when placing presents under the tree this year! Good hydration is essential to cats' and dogs' health – this is especially true for cats, who are more prone to urinary tract infections when they're dehydrated. Encourage drinking often with fresh, clean, filtered water from a pet water fountain. Available in many styles and sizes for different sized pets, water fountains have been shown to increase pets' drinking because of the fresh water and fun appeal they deliver. Prices range from $20-60, depending on brand and size. Also, don't forget some Greenies for their stocking. Pets go nuts for them and they're great for their dental health!
That's it for now – get shopping! Next week, I'll tackle the men in your life and friends.
Congrats, Ammre!
My friend Ammre (you may remember her from A Day in the Life of a GTA, and as an oft contributor of squid-related content to Cephaloblog) – one of the most active, talented, inspiring people I know – has been rendered virtually bedridden for several months now because of a back injury. Fortunately, she's getting fixed! Thanks to the generosity of the many people who have contributed to her PayPal fund, she will be having surgery on her spine tomorrow. I hope this will be a life-changing surgery for her and she'll be able to get back to her fire-hooping self again! That being said, with no insurance and no work during her recovery, I have no doubt she will continue to have countless medical bills and other financial obligations that will be hard for her to meet. If you're able to spare anything at all to donate to her PayPal fund, I know she'll be overwhelmingly appreciative. Every little bit helps – so help please Ammre if you can!